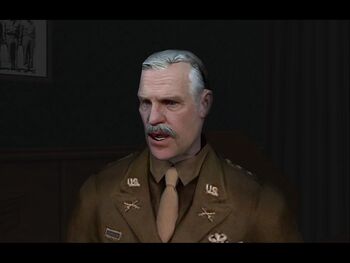 Murphy is an American officer working with the OSA. He is an advisor to the Director. Murphy is not thrilled to learn about the things the Nazis are up to behind the scenes, and sometimes responds to particularly unpleasant discoveries with skepticism and disbelief.
While he is not actually named in the game, one can find his textures and source files under a folder titled "Murphy".
He is also listed as Murphy in the manual credits for Tides of War.
Murphy wears the crossed rifles of a U.S. Army infantry officer, the Parachutist Badge, the two stars of a major general, and at the top of the ribbons on the left side of his uniform is the Silver Star medal, the third-highest American award for battlefield heroism. The sole ribbon on the right side of his uniform is the Presidential Unit Citation, first awarded in 1941.
Appearances
Edit
Murphy appears only in Return to Castle Wolfenstein and only in cutscenes.
Like most of the Allied characters from the franchise, his fate is currently unknown. Although it is possible that he was slaughtered by the Nazis after they took over the world, just prior to the events of Wolfenstein: The New Order.
Ad blocker interference detected!
Wikia is a free-to-use site that makes money from advertising. We have a modified experience for viewers using ad blockers

Wikia is not accessible if you've made further modifications. Remove the custom ad blocker rule(s) and the page will load as expected.