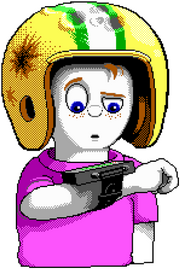 William Joseph "Billy Blaze" Blazkowicz II, a.k.a. Commander Keen (or sometimes just Keen) is the hero in a series of games with the same name.
Background
Edit
Even though Keen is only eight years old, he's highly intelligent for his age; it's said that he has a IQ of 314. Commander Keen usually wears a purple t-shirt, jeans, and an American football helmet painted in Green Bay Packers colors that he borrowed from his brother.
Keen is the grandson of William "B.J." Blazkowicz, the protagonist of the Wolfenstein series.
His parents are Arthur Kenneth Blaze, a Milwaukee talk show personality, and Susan Elizabeth McMichaels.
Arthur changed his surname from Blazkowicz to Blaze to make it sound more showbiz-like.
Keen also has an older brother and a younger sister, but their names are unknown.
B.J. Blazkowicz III is implied to be his descendant, as is likely Stan Blazkowicz.
In Doom II, BJ III desecrates 4 hung corpses which resemble Billy Blaze, which may be clones or doppledangers.