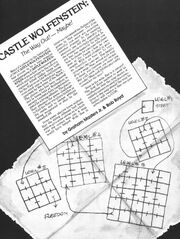 The Cellmate (aka British commando) was a character in Castle Wolfenstein (game). He gave a gun and bullets to the Allied Soldier helping him escape. He was an imprisoned British soldier.
Background
Edit
WELCOME TO CASTLE WOLFENSTEIN, MATE! THE NAZIS BROUGHT YOU HERE TO GET INFORMATION OUT OF YOU BEFORE THEY KILL YOU. THAT'S WHAT THIS PLACE IS FOR – IF YOU LISTEN YOU CAN HEAR THE SCREAMS. THEY'VE ALREADY WORKED ME OVER AND I'LL NEVER GET OUT ALIVE, BUT MAYBE YOU CAN WITH THIS GUN. I GOT IT OFF A DEAD GUARD BEFORE THEY CAUGHT ME. IT'S STANDARD ISSUE – EACH CLIP HOLDS 10 BULLETS, AND IT'S FULLY LOADED.
"BE CAREFUL, MATE, BECAUSE EVERY ROOM IN THE CASTLE IS GUARDED. THE REGULAR GUARDS CAN'T LEAVE THEIR POSTS WITHOUT ORDERS, BUT WATCH OUT FOR THE SS STORMTROOPERS. THEY'RE THE ONES IN THE BULLETPROOF VESTS AND THEY'RE LIKE BLOODY HOUNDS. ONCE THEY'VE PICKED UP YOUR TRAIL THEY WON'T STOP CHASING YOU UNTIL YOU KILL THEM AND YOU ALMOST NEED A GRENADE TO DO THAT.
"CASTLE WOLFENSTEIN IS FULL OF SUPPLIES TOO. I KNOW ONE CHAP WHO FOUND A WHOLE GERMAN UNIFORM AND ALMOST SNEAKED OUT PAST THE GUARDS. HE MIGHT HAVE MADE IT IF HE HADN'T SHOT SOME POOR SOD AND GOT THE SS ON HIS TRAIL. IF YOU CAN'T UNLOCK A SUPPLY CHEST, TRY SHOOTING IT OPEN. NOW I WOULDN'T GO SHOOTING AT CHESTS FULL OF EXPLOSIVES…
"ONE MORE THING. THE BATTLE PLANS FOR OPERATION RHEINGOLD ARE HIDDEN SOMEWHERE IN THE CASTLE. I'M SURE YOU KNOW WHAT IT WOULD MEAN TO THE ALLIED HIGH COMMAND IF WE COULD GET OUR HANDS ON THOSE…
"THEY'RE COMING FOR ME! GOOD LUCK!
"AIIIIEEEEEEE…."
Cellmate lost his life being tossed over the battlements to the moat below.
Behind the scenes
Edit
The British commando maybe the inspiration for Agent One in Return to Castle Wolfenstein.
Ad blocker interference detected!
Wikia is a free-to-use site that makes money from advertising. We have a modified experience for viewers using ad blockers

Wikia is not accessible if you've made further modifications. Remove the custom ad blocker rule(s) and the page will load as expected.