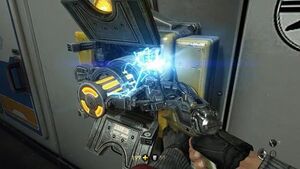 A Charging Station is a piece of Nazi technology designed and developed during 1960. It's main function is to recharge any electrical device and a variety of weapons that are powered by electricity.
There are two types of charging station: the rectangle ones and the cylindrical ones. The rectangle ones often charges weapon faster than the cylindrical ones.
The Charging station returns in the New Colossus with two type of charging station: Energy charger (Laser-based weapon) and Fuel Charger (Diesel-based weapon). All these type of charging station are done manually even with the energy charger.
Compatible Weapons & EquipmentEdit