A Charging Station is a piece of Nazi technology designed and developed during 1960. It's main function is to recharge any electrical device and a variety of weapons that are powered by electricity.
There are two types of charging station: the rectangle ones and the cylindrical ones. The rectangle ones often charges weapon faster than the cylindrical ones.
Compatible Weapons & EquipmentEdit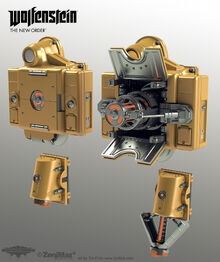 Ad blocker interference detected!
Wikia is a free-to-use site that makes money from advertising. We have a modified experience for viewers using ad blockers

Wikia is not accessible if you've made further modifications. Remove the custom ad blocker rule(s) and the page will load as expected.