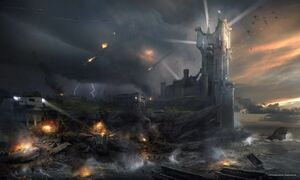 Deathshead's Compound is his island headquarters located in the Baltic Sea off the coast of Germany, close to the Polish border. It is where Deathshead designs and builds his advanced technology for Nazi Germany.
Deathshead's operation lies inside an old medieval castle, which has been modernized and expanded by 1946. Deathshead chose this location due to its impenetrable defenses.
Deathshead's laboratory is located deep inside the compound. This is where Deathshead performs his most terrifying experiments. It is fully equipped with automated incineration and clean-up systems which easily remove any tissue, organs, blood or other bodily fluids left by the test subjects.
Before Deathshead's occupation, the castle was built in Prussia by the Teutonic Knights. It was completed in the beginning of the 15th century and used as a fortress for the crusaders before they lost control to King Casimir IV Jagiellon at the end of the 15th century. The castle was also briefly occupied by Swedish forces during the Thirty Years' War.
On July 16, 1946, the Royal Air Force and the United States Army Air Corps, under the command of the OSA, launched an assault on Deathshead's compound in an desperate attempt to end the German military's technological leap. Hundreds of Allied military transport planes flanked by fast fighters participated in the assault. Allied forces that survived the assault landed at Baker Shore, where it is heavily defended by Nazi soldiers, Kampfhunden, Panzerhunden and the Baltisches Auge. BJ Blazkowicz participated in the assault among a group of Allied commandos, and failed to kill Deathshead. Ultimately, the Allied assault became a disaster and unable to prevent Nazi Germany from winning the Second World War.
In late 1960, the Kreisau Circle mounted an assault from the Eva's Hammer on the compound where they broke through the walls with a spindly torque and rescued some of the captured resistance prisoners caught in Berlin. Blazkowicz confronted and defeated Deathshead. However, Deathshead gravely wounded Blazkowicz with a grenade, killing himself in the process. Though wounded, Blazkowicz ordered the Circle to destroy the facility with the captured submarine's nuclear cannon. He was rescued via helicopter before the compound was obliterated, however.
Like Kreisau Circle HQ and the London Nautica, the Deathhead's Compound can be visited more than once in game. Although its interor has a major makeover after 14 years.
Ad blocker interference detected!
Wikia is a free-to-use site that makes money from advertising. We have a modified experience for viewers using ad blockers

Wikia is not accessible if you've made further modifications. Remove the custom ad blocker rule(s) and the page will load as expected.