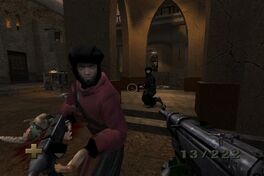 Stub

This article is a stub, an article too short to provide more than rudimentary information about a subject. You can help Wolfenstein Wiki by expanding it.
Egyptian Mercenaries (German: ägyptische Söldner)
(Arabic:
المصريون المرتزقة - Al-Mesriyoun Al-Mortazaqah
) are found in the
Cursed Sands
campaign, exclusive to console ports of
Return to Castle Wolfenstein
(though their appearance differs in each, they also have unique phrases in Tides Of War). The
Nazi army
has hired them for their knowledge of the area. They are first encountered at the inner city and turn up in every part of the Egyptian tombs.
Ad blocker interference detected!
Wikia is a free-to-use site that makes money from advertising. We have a modified experience for viewers using ad blockers

Wikia is not accessible if you've made further modifications. Remove the custom ad blocker rule(s) and the page will load as expected.