Stub

This article is a stub, an article too short to provide more than rudimentary information about a subject. You can help Wolfenstein Wiki by expanding it.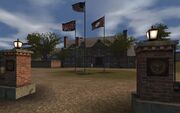 England is one of the countries that make up the United Kingdom the British Empire. It is seen or mentioned in several games. It appears briefly in Return to Castle Wolfenstein, Wolfenstein, and Wolfenstein: The New Order.
Background
Edit
It his country of origin for the deceased Wesley (Agent One) (though this was changed to Wales for Richard Wesley his counterpart). It is also the home country of the OSA Director.
Return to Castle Wolfenstein
Edit
Wolfenstein
Edit
England is soon to be bombed the SS Tirpitz which is off the English coast, though BJ destroys it.
The inside of the OSA HQ in England is shown briefly after Blazkowicz success.
The Old Blood/The New Order
Edit
In The Old Blood, England, and its capital London are under constant bombardment by the Nazis. By the time of The New Order, England has been captured by the Nazis, and London controlled by the London Monitor.
Ad blocker interference detected!
Wikia is a free-to-use site that makes money from advertising. We have a modified experience for viewers using ad blockers

Wikia is not accessible if you've made further modifications. Remove the custom ad blocker rule(s) and the page will load as expected.