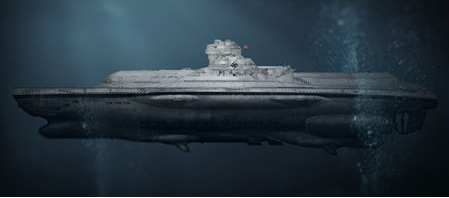 "You know what you have here Captain Blazkowicz? This is the Eva's Hammer. The Crown jewel of the Nazi U-Boat fleet. There's a nuclear cannon on this boat. Uh, correction. Our nuclear cannon"
―Fergus Reid speaking to Blazkowicz about the Eva's Hammer
Eva's Hammer is the largest U-boat in the Kriegsmarine. It is seen in the 2014 game Wolfenstein: The New Order.
Wolfenstein: The New OrderEdit
The Eva's Hammer is not seen until Chapter 11 - U-Boat where B.J. Blazkowicz stows away inside a torpedo delivered to the U-Boat by one of Klaus Kreutz's contacts. Having boarded the ship, Blazkowicz clears the vessel of its crew to make it secure for the other members of the Kreisau Circle to board. They then use the craft to access Set Roth's Da'at Yichud safe keep below the Atlantic Ocean.
By the final chapter, the Kreisau Circle used the Eva's Hammer to attack Deathshead's Compound. They fired a Spindly Torque from its cannon to attack the defending Nazi forces. They also used the ship's nuclear cannon after Blazkowicz obtained the nuclear decryption keys from the Lunar Base.
The Eva's Hammer most likely became the Kreisau Circle's new, mobile headquarters after the assault on Deathshead's Compound.
The U-boat is most likely named after Eva Braun, Adolf Hitler's lover and wife.
The theft of the flagship U-boat and its nuclear decryption keys, and its later role in Deathshead's death, would have been deeply demoralizing for the Nazi regime.
Ad blocker interference detected!
Wikia is a free-to-use site that makes money from advertising. We have a modified experience for viewers using ad blockers

Wikia is not accessible if you've made further modifications. Remove the custom ad blocker rule(s) and the page will load as expected.