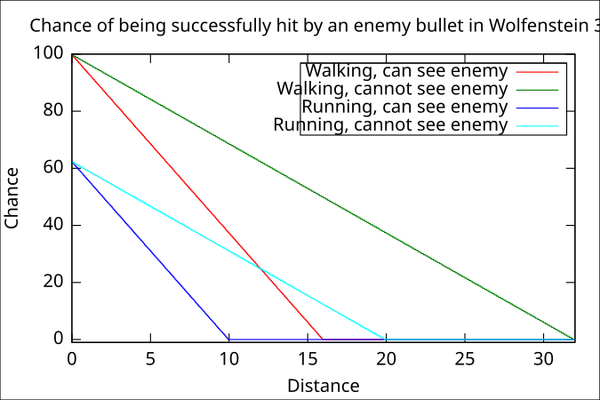 No higher resolution available.
A graph depicting the percent chance of an enemy's hitscan successfully hitting as compared to distance fired, under various conditions, in Wolfenstein 3D
Source code
Edit
This was created with gnuplot. The source code is as follows:

set terminal svg size 600,400 #FFFFFF dynamic enhanced fname 'arial' fsize 12 butt solid
set output 'Wolfenstein 3D enemy hit chance.svg'
set key inside left top vertical Right noreverse enhanced autotitles box linetype -1 linewidth 1.000
set object 1 rectangle \
         from screen 0,0 to screen 1,1 fillcolor rgb"#ffffff" behind 
set samples 2000,2000
walksee(x) = floor(((256 - (16 * x))+abs(256 - (16 * x)))/2)/2.56;
walkblind(x) = floor(((256 - (8 * x))+abs(256 - (8 * x)))/2)/2.56
runsee(x) = floor(((160 - (16 * x))+abs(160 - (16 * x)))/2)/2.56
runblind(x) = floor(((160 - (8 * x))+abs(160 - (8 * x)))/2)/2.56
set title "Chance of being successfully hit by an enemy bullet in Wolfenstein 3D" 
set xlabel "Distance"
set ylabel "Chance"
set xrange [0:32]
set yrange [-1:100]
set key right top
plot 	walksee(x) title "Walking, can see enemy", \
	walkblind(x) title "Walking, cannot see enemy", \
	runsee(x) title "Running, can see enemy", \
	runblind(x) title "Running, cannot see enemy"


Licensing
Edit
This file is in the public domain.
Its copyright has expired, it has been explicitly relieved of copyright by its owner, or it is otherwise ineligible for copyright.
Appears on these pages

of
Hitscanning is a method of performing damage calculations for video games. In Wolfenstein 3D, it...
File history
Click on a date/time to view the file as it appeared at that time.
Metadata
Ad blocker interference detected!
Wikia is a free-to-use site that makes money from advertising. We have a modified experience for viewers using ad blockers

Wikia is not accessible if you've made further modifications. Remove the custom ad blocker rule(s) and the page will load as expected.