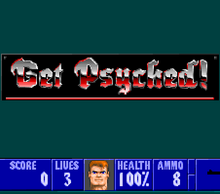 Stub

This article is a stub, an article too short to provide more than rudimentary information about a subject. You can help Wolfenstein Wiki by expanding it.
Get Psyched!
is a message that appeared in the loading screens for
Wolfenstein 3D
, as well as
Spear of Destiny
and its
mission packs
.
The screen was the loading screen for any given level, it was to show that the game would have brutal difficulty and it would be insane.
In later games
Edit
The message re-appears in 2009 game Wolfenstein, as an occasional break from the general tips that appear on loading screens throughout the game allowing the fans for the Nostalgia for the old game. It also appears in the the 2014 game Wolfenstein: The New Order on the first loading screen before the intro as a subliminal-esque message. In the 2015 game Wolfenstein: The Old Blood when you restart level the message flashes on screen before restarting the level In the 2017 game Wolfenstein 2: The New Colossus the message flashes on screen right before the ending credits and it's written in bloody letters.