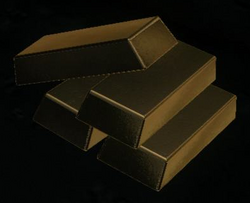 Gold pickups are hidden throughout the various levels of Wolfenstein: The Old Blood, usually in out of the way or perilous places. They are an optional collectible, in the same vein as the treasure items from the classic Wolfenstein games.
There are 64 gold pieces in total (8 in each level of the game, except the Prologue), appearing as a stack of gold bullions.
Collecting all gold treasures will unlock a golden skin for the Handgun 1946. Note that you should not skip any gold bars in any level and go back for them after having completed this level, as this could cause a glitch, which will prevent you from getting the golden pistol.
All that glitters
Collect 8 gold items.
Glittering gold
Collect 16 gold items.
The ecstasy of gold
Collect 32 gold items.
Gold master
Collect 64 gold items.