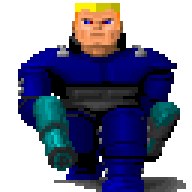 The Grösse family
(names often anglicized to
Grosse
) is a family of at least three related characters in the
Wolfenstein 3D
era, each of which is killed by
BJ Blazkowicz
. The known members of the family are:
Characteristics
Edit
The known members of the Grösse family are all bosses with an affinity for heavy armor and dual Chain Guns. All of them drop gold keys upon death. In fact, apart from appearance and sounds created, their game mechanics are identical.
Gretel Grösse appears to be very nearly a palette swap to Hans, having a nearly identical appearance save for color changes (and chest and abdomen differences). Trans Grösse, however, was created at a later date and is more unique. Whereas both Hans and Gretel hold their heads high with pride, Trans walks with a scowl, his head dipped in fury.
Other members
Edit
The Apogee Software/3D Realms Official Wolfenstein 3D Hint Book claims that the Grösse family is "...a large family with one sister, Gretel, and many brothers", claiming that the player should "Watch out for them in future levels!".[2] This is an allusion to Episode 6, Floor 10, which contains three Hans Grösse bosses. They are identical in appearance and characteristics to Hans Grösse, indeed being treated as the same entity by the game, but the same manual claims their names are:[3]
Mans Grösse,
Pans Grösse, and
Fans Grösse.
This is most likely a hand wave to explain the preposterousness of having an already-killed enemy reappear three times in a single level.
Episode 2, Floor 8 also features Hans Grösses within the enormous pushwall maze, but they, and indeed the entire maze, are ignored by the Hint Book.[4]
References
Edit