The 
Heavy Soldier
 is an enemy encountered in 
Wolfenstein: The Old Blood
. They are the 1946 counterpart of the 1960 Nazi
Fire Troopers
.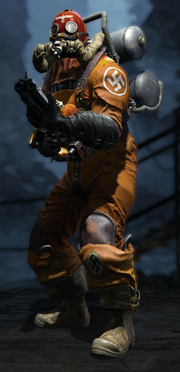 Description
Edit
Heavily armed and heavily armored, these soldiers have traded mobility for protection and superior firepower. Armed with combat shotguns they wear sealed and armored suits that have an integrated closed respiratory which draws oxygen from pressurized tanks worn on the back.
AdvantagesEdit
Heavy Soldiers make stealth a bit more difficult when taking down other troopers on the field because they cannot be taken down by a melee weapon.
They can take more damage than usual troops
DisadvantagesEdit
Aim for the tanks on their backs, that'll cause them to explode and therefore kill them and other soldiers around them if you're lucky.
The best weapons against them are the Schockhammer and the Bombenschuss. The Bombenschuss is good for headshots which will take them down in one shot, however Schockhammers may take a few shots to kill them.
The image for the Heavy Trooper's information page depicts it wielding a Automatic Shotgun 1960, despite the fact that the weapon is not produced in 1946.
Ad blocker interference detected!
Wikia is a free-to-use site that makes money from advertising. We have a modified experience for viewers using ad blockers

Wikia is not accessible if you've made further modifications. Remove the custom ad blocker rule(s) and the page will load as expected.