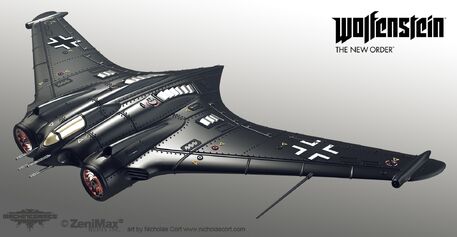 The Horten H.IX, RLM designation Ho 229 (or Gotha Go 229 for extensive re-design work done by Gotha to prepare the aircraft for mass production) was a German prototype fighter/bomber initially designed by Reimar and Walter Horten to be built by Gothaer Waggonfabrik late in World War II. It was the first flying wing to be powered by jet engines.[1]
The design was a response to Hermann Göring's call for light bomber designs capable of meeting the "3×1000" requirement; namely to carry 1,000 kilograms (2,200 lb) of bombs a distance of 1,000 kilometres (620 mi) with a speed of 1,000 kilometres per hour (620 mph). Only jets could provide the speed, but these were extremely fuel-hungry, so considerable effort had to be made to meet the range requirement. Based on a flying wing, the Ho 229 lacked all extraneous control surfaces to lower drag. It was the only design to come even close to the 3×1000 requirements and received Göring's approval. Its ceiling was 15,000 metres (49,000 ft).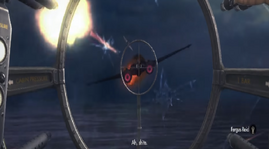 During the event of the New Order, several Horten Ho are used to attack the Allied Force aircraft during the raid on Deathshead compound. The Horten Ho is seem to be modified and upgraded greatly by Deathshead to serve as both bomber and fighter.
Ad blocker interference detected!
Wikia is a free-to-use site that makes money from advertising. We have a modified experience for viewers using ad blockers

Wikia is not accessible if you've made further modifications. Remove the custom ad blocker rule(s) and the page will load as expected.