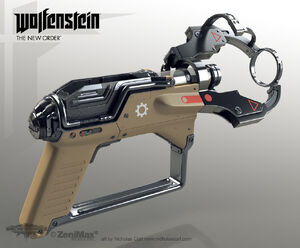 Stub

This article is a stub, an article too short to provide more than rudimentary information about a subject. You can help Wolfenstein Wiki by expanding it.
The
Laser Cutter
is a weapon that appears in
Wolfenstein: The New Order
.
The Laser Cutter is found outside Eisenwald Prison, and is essential to navigating the interior of the prison facility. It is primarily used to cut through fences and chains, but can serve as a very low damage weapon in emergencies. A secondary firing mode can be acquired within Einsenwald Prison (not unlocked until player gets to the next chapter), which is that the Laser Cutter gains the ability to shoot high powered energy blasts (which can be used to take out enemies quickly, effectively and most importantly, allows the player to stay in stealth as well) while retaining its primary function. It does not use ammunition, instead relying on the numerous charging stations located throughout the levels to retain functionality. The LaserKraftWerk replaces the Laser Cutter during the London Nautica level and all subsequent chapters, as BJ ditches the Laser Cutter right after acquiring the vastly superior weapon.
It was never seen or used again in the game after that.