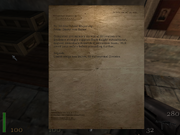 Letters
can be found throughout
Return to Castle Wolfenstein
, written between characters in the game and often providing insight into the current state of affairs.
For a complete listing of clipboards and letters from Return to Castle Wolfenstein, see List of Clipboards and Letters. For intel from the prequel missions only found in console ports of the game, see List of Clipboards and Letters (Cursed Sands).
Ad blocker interference detected!
Wikia is a free-to-use site that makes money from advertising. We have a modified experience for viewers using ad blockers

Wikia is not accessible if you've made further modifications. Remove the custom ad blocker rule(s) and the page will load as expected.