Stub

This article is a stub, an article too short to provide more than rudimentary information about a subject. You can help Wolfenstein Wiki by expanding it.
New York City
is a city in the United States of America.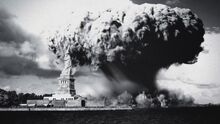 The largest city in the United States of America, New York is the financial and cultural hub of the nation. At the time of Wolfenstein: The New Order, it was destroyed in 1948 by Der Bestrafer (The Punisher), a nuclear bomb developed by the Third Reich. An irradiated wasteland by 1960, Nazi media boast that the region may soon be rendered inhabitable in less than three years, thanks to the Nazi-developed terraformer technology.
Ad blocker interference detected!
Wikia is a free-to-use site that makes money from advertising. We have a modified experience for viewers using ad blockers

Wikia is not accessible if you've made further modifications. Remove the custom ad blocker rule(s) and the page will load as expected.