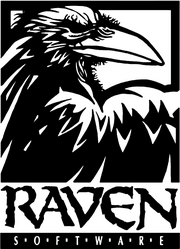 Raven Software  is an American video game developing company based in Wisconsin and founded in 1990. In 1997, Raven made an exclusive publishing deal with Activision and was subsequently acquired by them. After the acquisition, many of the studio's original developers, largely responsible for creating the Heretic and Hexen: Beyond Heretic games, left to form Human Head Studios.
In 2005, they announced the second title of remake series under title Wolfenstein and finally released in 2009 after a long term of struggling developing. However after the release of the game, the company layoffs, quite a number of staff resigned around 20 to 30. [1] [2] In 2010, the same event transpiring once more after the release of Singularity estimated of 40 staff had been resign.[3] From that day onward, Raven has been focused on assisting with the Call of Duty series ever since. [4] [5]
References
Edit
Ad blocker interference detected!
Wikia is a free-to-use site that makes money from advertising. We have a modified experience for viewers using ad blockers

Wikia is not accessible if you've made further modifications. Remove the custom ad blocker rule(s) and the page will load as expected.