Floor 1 →
Part of
Return to Danger
Par time
1:30
Secrets
3
Treasure
Crosses
10
Chalices
16
Chests
5
Crowns
3
One Ups
1
Total
35
Enemies
Difficulty
Guards
12
20
23
SS
6
13
20
Dogs
4
8
8
Total
22
41
51
Highscore


(before bonuses)

34000
39100
42900
Stub

This article is a stub, an article too short to provide more than rudimentary information about a subject. You can help Wolfenstein Wiki by expanding it.
In order to obtain the hidden Chain Gun, you'll have to trick a nearby enemy to open the locked door for you, and then kill him within the door frame, in order to keep it open.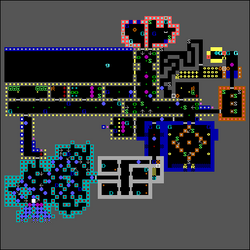 Ad blocker interference detected!
Wikia is a free-to-use site that makes money from advertising. We have a modified experience for viewers using ad blockers

Wikia is not accessible if you've made further modifications. Remove the custom ad blocker rule(s) and the page will load as expected.