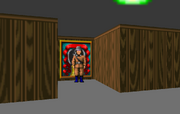 Secrets
(also known as
pushwalls
) are special wall tiles in
Wolfenstein 3D
and
Spear of Destiny
that can be pushed by the player, possibly revealing
treasure
or other goodies, or sometimes even an elevator to a
secret level
.
Secrets totals
Edit
At the end of each level (excepting secret levels) BJ is scored based on the percentage of secrets in the level he found, as well as enemies killed and treasure attained. If the total is 100% for any of the three, BJ earns 10,000 points, for a maximum of 30,000.
Ad blocker interference detected!
Wikia is a free-to-use site that makes money from advertising. We have a modified experience for viewers using ad blockers

Wikia is not accessible if you've made further modifications. Remove the custom ad blocker rule(s) and the page will load as expected.