← Floor 8 →
Part of
Spear of Destiny
Par time
2:45
Secrets
4
Treasure
Crosses
10
Chalices
39
Chests
9
Crowns
3
One Ups
2
Total
63
Enemies
Difficulty
Guards
37
40
40
SS
12
27
42
Dogs
2
2
2
Officers
4
19
24
Total
55
88
108
Highscore


(before bonuses)

56200
70000
79500
Stub

This article is a stub, an article too short to provide more than rudimentary information about a subject. You can help Wolfenstein Wiki by expanding it.
Floor 8
of
Spear of Destiny
is the eighth level in the game and the third level in chapter "The Dungeons". One of the toughest level to pass through even when you are on intermediate difficulty. Only 4 secret rooms in this level but they are located on the important areas but amongst them one is very near to your door where you are entering. That secret door has nothing except few SS, if you open that secret door first, then you will be in trouble.
You can't fight with all the guards, officers and ss at this stage particularly. you will notice lot of doors but nothing seems to be a room but all are connected to one passage which will put you in confusion. Best thing to do is rather than going and killing them better call them to your place by just one shoot. For example, open the door and enter this level but dont go anywhere just one shoot. all guards etc will come to your place. you just hide yourself and keep on shoot by this way all guard will die, then freely you can roam this level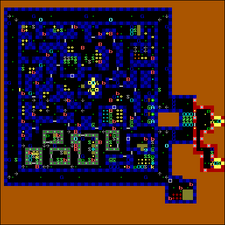 Ad blocker interference detected!
Wikia is a free-to-use site that makes money from advertising. We have a modified experience for viewers using ad blockers

Wikia is not accessible if you've made further modifications. Remove the custom ad blocker rule(s) and the page will load as expected.