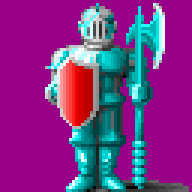 Sprites
are two-dimensional images which are used to represent all items and enemies in
Wolfenstein 3D
and derivative works
Spear of Destiny
and the
mission packs
. They are projected into the game world so that they always appear to face the player, giving an illusion of three-dimensional objects. Later games in the
Wolfenstein series
were able to utilize much more complicated three-dimensional polygons, rendering the use of sprites far less important.
Wolfenstein 3D features 436 sprites, while Spear of Destiny features 421.
Technical information
Edit
In the original MS-DOS game, all sprites were 64x64 pixels. Instead of using formal transparency, the color #980088 is designated as transparent, giving all extracted sprites a purple background. Most non-boss enemies have a sprite for each of the nine directions they may be facing, for each of the Stand and Chase (and Path) states.
For example, here are the eight sprites for the Stand state of the Guard from Wolfenstein 3D:
Later ports after the SNES used higher resolution, 128x128 sprites. However with the SNES, only one sprite for each state was created, so the enemies always appeared to face the player.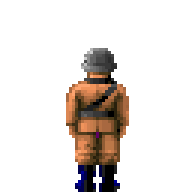 Some enemy sprites have pixels which are colored
#600064
, which is similar to
#980088
but not the same. These pixels are not made transparent, and show up in game as purple.
The purple pixels are normally meant for Mutant blood. Otherwise, it can be assumed that it is a mistake by the developers.
Ad blocker interference detected!
Wikia is a free-to-use site that makes money from advertising. We have a modified experience for viewers using ad blockers

Wikia is not accessible if you've made further modifications. Remove the custom ad blocker rule(s) and the page will load as expected.