← Floor 18 →
Part of
Ultimate Challenge
Par time
None
Secrets
5
Treasure
Crosses
0
Chalices
0
Chests
0
Crowns
57
One Ups
3
Total
60
Enemies
Difficulty
Guards
3
7
12
SS
2
6
7
Dogs
6
15
18
Mutants
7
13
28
Officers
3
6
7
Other enemies
Robot (boss)
Total
22
48
73
Highscore


(before bonuses)

298600
308200
320700
Stub

This article is a stub, an article too short to provide more than rudimentary information about a subject. You can help Wolfenstein Wiki by expanding it.
Floor 18 of Ultimate Challenge is the boss level in which the player must defeat The Robot to capture The Spear of Destiny once again. After the player captures it the level smoothly changes to the final level of the game: Floor 21 (Future Threat).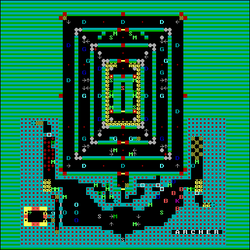 Ad blocker interference detected!
Wikia is a free-to-use site that makes money from advertising. We have a modified experience for viewers using ad blockers

Wikia is not accessible if you've made further modifications. Remove the custom ad blocker rule(s) and the page will load as expected.