← Floor 19 →
Part of
Ultimate Challenge
Par time
None
Secrets
14
Secret level
Yes
Accessed from Floor 4
Treasure
Crosses
23
Chalices
40
Chests
40
Crowns
39
One Ups
7
Total
149
Enemies
Difficulty
Guards
20
36
57
SS
16
23
40
Dogs
3
5
5
Mutants
9
19
28
Officers
0
5
11
Total
48
88
141
Highscore


(before bonuses)

274200
288700
308000
Stub

This article is a stub, an article too short to provide more than rudimentary information about a subject. You can help Wolfenstein Wiki by expanding it.
Floor 19 of Ultimate Challenge, named "Annihilation Zone!"[1], is the secret level in chapter "Computer Technology Labs" and the first secret level in the entire game.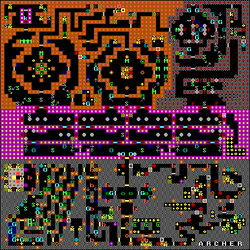 References
Edit
↑ Hemphill, Alan. Instruction and Hint Book for Mission 3: The Ultimate Challenge. FormGen Corporation, 1994. Page 35. Web. (Third-party scan)
Ad blocker interference detected!
Wikia is a free-to-use site that makes money from advertising. We have a modified experience for viewers using ad blockers

Wikia is not accessible if you've made further modifications. Remove the custom ad blocker rule(s) and the page will load as expected.