Stub

This article is a stub, an article too short to provide more than rudimentary information about a subject. You can help Wolfenstein Wiki by expanding it.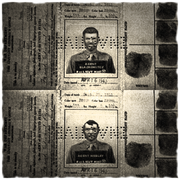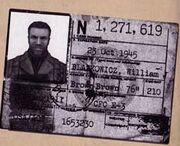 Historical style of ID card produced by the US War Department, Washington D.C., c. 1941-1944. They were later replaced with laminated ID card style. This would oddly indicate that Webley/Wesley as a US soldier at one point in time.
Both of the cards are punched out 'Inactive' which would indicate they are no longer in active US service at the time the cards were photographed for the 'slides'.
Behind the scenes
Edit
Some other examples for greater detail: Example I, and Example II.
Both cards for Webley/Blazkowicz are apparently photo-shopped versions of the same card, with just the image changed (maybe some other slight touchups). The cards would indicate that the original person in the card was a 2nd Lt (or possibly 3rd Lt).
The uniform both wear is a US dress uniform minus the coat, c. 1940s.
The actual historical cards from the era of late 1941-1944[1] very slightly on the left side text, and there are at least two versions. The differences between the two versions include name on the top line, with Grade, Arm of Service, and Serial No. on the lower line, or name and Grade on the top line, with Arm of Service, and Serial Number. It is difficult to make out which version the in-game cards resemble the most, but appears to be the version with the name on top line, and the other information below it. The latter seems to go back to as early as mid 1941 (and others appear in mid to late 1942, but both types were still being issued at that time).
The issue date is difficult to make out and could be anything from a 1940 (which would be anachronistic) to a 1941, a 1942, or as some read it 1943. But its too pixelated to know for sure.
The black name card in the photos section would list name, arm of service, and rank. But the text below (other than "AGENT" and names) is difficultto make out. Part of it may say "Lieut".
References
Edit