Wolfenstein: The New Order
Talk

0
567pages on
this wiki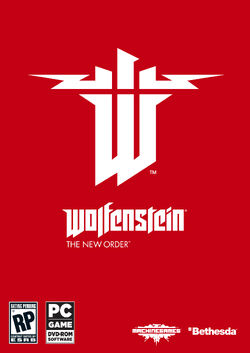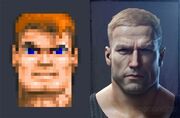 Wolfenstein: The New Order is an upcoming game and the ninth installment in the Wolfenstein series for Xbox 360, PS3, PC and next generation consoles. It is being developed by MachineGames, and published by Bethesda Softworks. It is the sequel to Wolfenstein, and will utilise id Software's proprietary game engine id Tech 5. It was originally to be released in Quarter 4, 2013. However, it was pushed to May 20, 2014 in North America and May 23 for Europe.
Unlike previous games, it will not have a multi-player component.[1]
Announcement
Edit
We are excited to bring a new chapter of Wolfenstein to gamers everywhere; As fans of the series, working on this game is an honor, and our team is driven to create an unforgettable action-adventure experience that will make FPS fans proud. Jens Matthies, creative director at MachineGames, Zenimax Online Press Release May 2013
The new game was first teased by the Bethesda Softworks twitter feed, before a trailer was exclusively released to GameSpot.com on May 8.
The game promises to be "A reimaginging of the series"[2], with famed Wolfenstein hero B.J. Blazkowicz again taking on the Nazis; however unlike previous games this game takes place in the 1960's in an alternate dystopian universe where the Nazis had won World War II.
In 1946, Blazkowicz suffers from amnesia received at the height of the war due to a secret mission gone awry. For the remainder of the war and the next few decades he resides in an asylum. The Nazis arrive at the asylum many years later, intent on wiping out the sick due to their inferiority. Their barbarism stirs Blazkowicz's memory, and he escapes with the help of a nurse named Anya. The two later join the Resistance, meeting a whole slew of vibrant and interesting characters, all the while skirting around possible feelings for one another and the hope of humanity spirit to be spread once again from the free of the Tyranny.[3]
Resistance characters
Edit
Screenshots
Edit
References
Edit
↑

Zenimax Online Press Release 8 May 2014
External links
Edit